When I cook I rarely follow a recipe and usually change things up each time I cook it. Mediterranean Chicken is one of my favorite chicken dishes. It's easy and light fare. I have had some requests for the recipe. Enjoy…
 Mediterranean Chicken
1  1/2 lbs. chicken tenders – cut into 1 inch cubes
1  14.5 oz can of diced tomatoes (with garlic or basil is a good choice)
1  14 oz. can of whole or quarter artichoke hearts (not marinated) — drained and chopped
1 medium yellow onion sliced thin
2 cloves garlic chopped
splash of olive oil
1 tsp thyme
1 tsp oregano
1 chicken bouillon cube
juice of 1/2 lemon
1 4 oz. package of feta cheese
Saute onions and garlic in olive oil and then add chicken and spices and saute until the chicken is lightly cooked. Stir in tomatoes and simmer on low for 20 minutes until chicken is tender. Add lemon juice and chopped artichoke hearts. Cover and simmer for 5 minutes. Turn off heat and sprinkle with feta cheese and fresh ground pepper.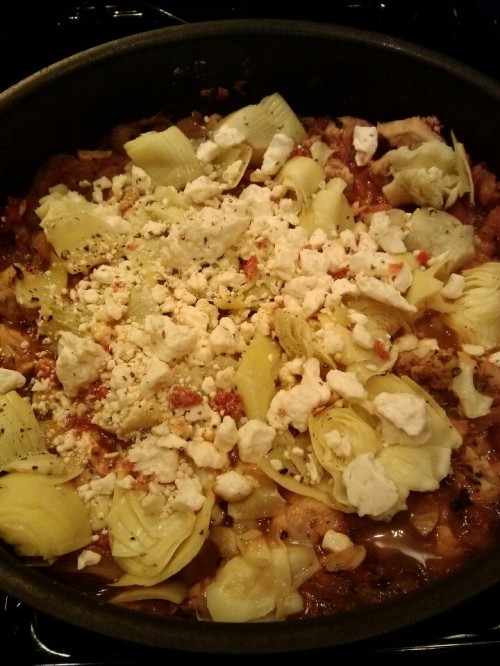 Serve on rice. Serves 4 – 6.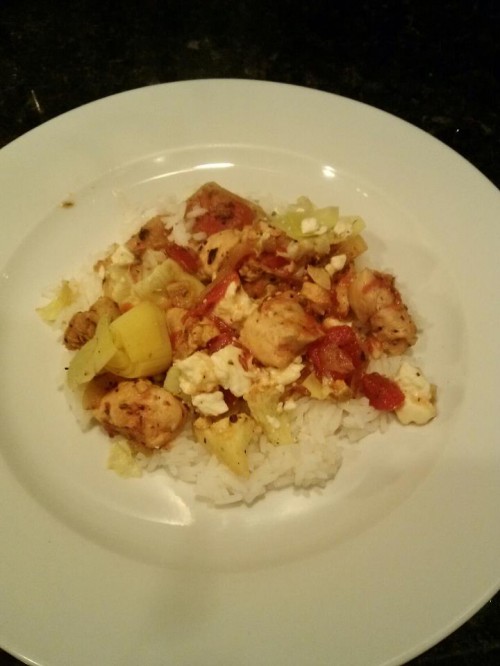 I recommend pairing this with a salad of spring greens and red onion with vinaigrette and ciabatta.
Alternatives to the Mediterranean Chicken… substitute artichoke hearts with sliced zucchini or summer squash. Add rosemary or basil.