It's always a challenge if you are cooking for one and you love to cook, not to over cook. This afternoon, when I hit the grocery store aisles chili popped into my head and I sought out the ingredients for Chicken & Black Bean Chili.
Pamela's Chicken & Black Bean Chili
1  lb. chicken tenders – cut into 1 inch cubes
1  14.5 oz can of petite cut or diced tomatoes with green chilies
1  14 – 15 oz. can of black beans with cumin (partially drained)
1  11 oz can of corn
1  8 oz can of tomato sauce
1 bunch green onions – diced
2 cloves garlic chopped
splash of olive oil
1 tsp. cumin powder
1 tsp. chili powder
1 dash cinnamon powder
salt & pepper to taste
Saute onions and garlic in olive oil and then add chicken, sprinkle with spices and saute until the chicken is lightly cooked. Stir in tomatoes and spices and then simmer on low for 30 – 40 minutes until chicken is tender and the spices have cooked into the sauce. I cook spicy, you should adjust the spices in the recipe if you feel it is too spicy or not spicy enough. Add black beans and corn. Cover and simmer on low for 20 – 30 minutes.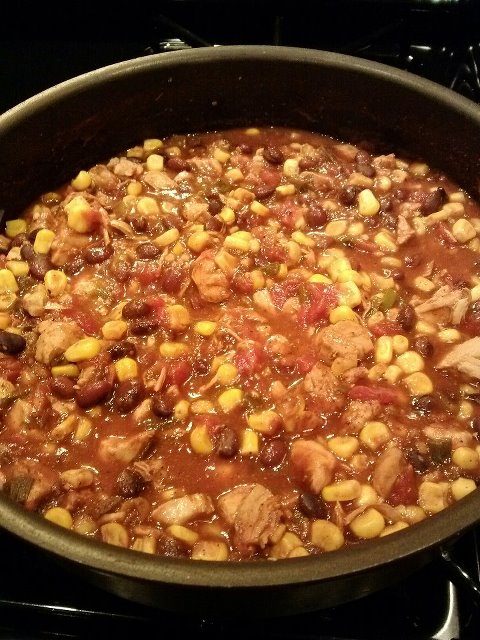 Serve in a bowl and enjoy!
The recipe will serve 3 – 4 depending on the size of the servings. It's a great quick chili to make if you are cooking for one. I'll have it again tomorrow night served on some white rice with salad and avocado and then I'll freeze the in 2 single serving containers.