I was hoping my move to the river a few weeks ago would provide me for good inspiration for my writing. It has taken me sometime to settle in to my new place and that has been a distraction from school, and of course my writing. The inspiration is starting to kick in, I am happy to say.
Writing has been my life and I've never fulfilled writing what I really wanted to write about so I am working on that now while I am working on BA at UMass Amherst University Without Walls where I am majoring in Creative Writing and Communication in the Digital Age.
I had a visitor to my front porch this morning. A little red squirrel who eventually started tearing into an old cushion on beat up wicker chair with a basket of fake forsythia in it. I grabbed the cameras. And then I grabbed my big 8.5″ x 11″ journal and started writing. I"ll take it… one page at a time.
Little Red Pays a Visit: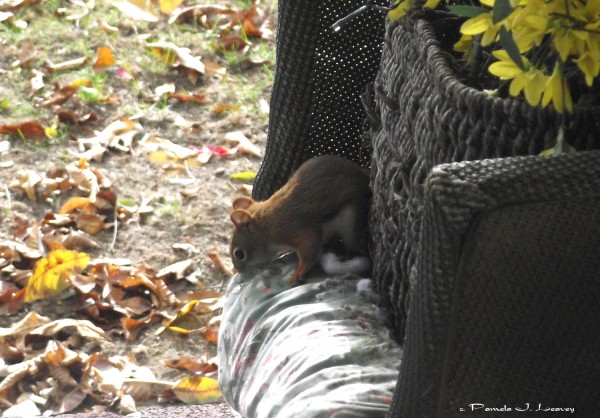 A couple of pages in I grabbed a dinning room chair and pulled it out to the front entry way and then plunked myself down to write, 12 pages. I have a great start for a creative non-fiction piece for my Creative Non-fiction class. It also falls into the realm of my honors independent study in Nature Writing, and my Digital Photography class with the photos. The mix is direction. The flow was perfect. I made a new friend.
I feel blessed each day when I look out the window of my bedroom in the morning when I awake for I see the Merrimack River just across the way. I came here to write. I came here to create the vision of what my writing life looked like to me. The picture is here. The inspiration is right out my door. May this new trend in my writing life continue.