Each day as I walked along the Merrimack River last fall, there were a few dozen Red-winged Blackbirds singing in the top of the tree alongside the river. They trilled, they chattered, they called out a sharp "chak chak chak" sound, making certain that all knew of their presence along the river as they formed their flocks each evening, swirling about, diving head long into the marsh grasses and Phragmites like some daring stunt pilots dazzling an audience of spectators. I watched them spell-bound as they careened about along the edge of the river, flashing their red wing patch as they veered left and then right and swirled in to the marsh grasses in a flurry.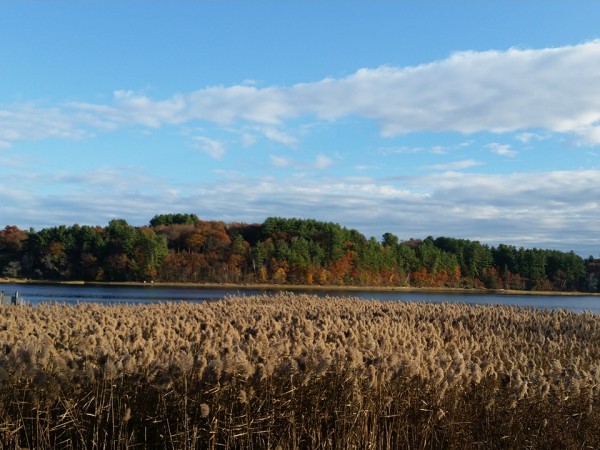 They were a loud group, a boisterous crowd, which broke the reverie of the quiet as I walked along the river's edge. Despite the fact that I expected each day to see and hear my raucous friends as I walked, I was startled from my own mind that often spun like the chattering flock of glossy Red-winged Blackbirds. Once brought to my senses I would stop to marvel at the racket they made and laugh at their antics swooping about in the large swath of Phragmites along the river.
Day in, day out, as I walked past their riverside haunt the red-winded blackbirds did not cease to entertain me. It was just that simple it seemed, that nature provided the stimulus to take me outside of myself long enough to look at my life from a different direction. As the flight of a flock of birds shifts and change direction, so too does life. Typically, the clarions of spring, I wondered each day why this flock of red-winged blackbirds had not made their way south yet. They were still hanging on to the river's edge, out of season, as if they might risk wintering in the cold New England winter.
And then, one day they were gone. I walked the path I always took, I marveled in the silence as I passed by the large stand of Phragmites usually infested with Red-winged Blackbirds. I stopped and listened for their chatter and trill. I heard only silence. The cold winters of winter had finally sent them south, I thought to myself. Soon the spring would come again and those clarions of spring, the Red-winged Blackbirds, would return. I would wait, as I do in all aspects of my life, for change to come.