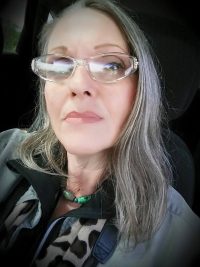 A contemporary Renaissance Woman, Pamela is originally from Newburyport, Massachusetts. As a single mother, Pamela resided in the Los Angeles area from January 1990 until October 2008, when she moved to Eastport, Maine. In May 2009, Pamela returned to her roots in Massachusetts and now resides in Amesbury, MA.
Striving to uphold her single mother responsibilities, Pamela created her own line of natural bath and body products (Of The Goddess Ltd.) in 1995, that have been available online since 1997, through her retail and wholesale websites. Pamela was named "Mompreneur of The Month" on IVillage.com in December 2000, her products have been featured in Modern Bride Magazine and her business was headlined in Advanta Business Magazine for Women.
Prior to founding Of The Goddess Ltd., Pamela was member of the Newburyport, MA Chamber of Commerce,  and owned Positively Pamela's Flower Shop in Newburyport. She also served on the Board Directors for the New England Unit of Teleflora in the mid 1980's. Pamela worked in the floral industry for 20 years as a designer and shop owner.
Aside from her entrepreneurial success, Pamela is a writer, poet, artist, web designer, and communications consultant. As a technology early adopter, Pamela successfully self-marketed her business on the internet, utilizing her websites as information portals on aromatherapy, women's health issues long before the advent of blogs. She also published a series of aromatherapy articles in an online new age magazine.
Pamela Leavey has been an activist for various women's issues including domestic abuse, single parenting, public education and the environment. Realizing that her websites had been a source of inspiration and guidance to many women, combined with the experience gained from successfully self marketing her business on the internet, Pamela turned to political blogging during the '04 election cycle and has been using her voice in online activism ever since.
Pamela Leavey was a writer for the 2004 JohnKerry.com Campaign Blog from August '03 through the 2004 election cycle. She was named one of the top three contributors to the Kerry campaign blog.
Deciding it was time to be actively involved in changing America's direction, Pamela started blogging about John Kerry on the Unofficial Kerry Blog in Spring '03. The Kerry campaign contacted her in July '03 to write for the Campaign Blog. Her early contributions to the Kerry Campaign Blog included California grassroots coverage of campaign events were followed by a quick transition to writing on national campaign news and events, as well as commentary on the issues. Pamela was also the Blog Admin Assistant to Blogmaster Richard Bell, serving as a moderator of the Blog and Forum.
One of the founding partners for LightUpTheDarkness.org after the election, Pamela went on to create The Democratic Daily in July 2005. The mission of The Democratic Daily is to provide news, views and opinions on politics and the issues, with special emphasis on important news that is overlooked by the MSM. Dedicated to a better world future, Pamela is passionate about many issues important to liberals including the environment, education, healthcare, the economy and world peace. Pamela was also a frequent contributor to Dembloggers.com, and blogged on the Unofficial Kerry Blog.
The Democratic Daily Blog is in syndication via Newstex, maintaining a standard of writing above the blogosphere curve. Pamela has been quoted by the NY Times and other news sources and published on The Huffington Post. During the 2006 election cycle, Pamela was an independent internet consultant to Friends of John Kerry, Inc..
Pamela holds a certificate in Contemporary Communications from UMass Lowell, and she is currently working towards her B.A. in Creative Writing and Digital Age Communications at UMass Amherst UWW.
For internet or social media consulting, WordPress Blog set-up and design or media avails: Contact Pamela here.