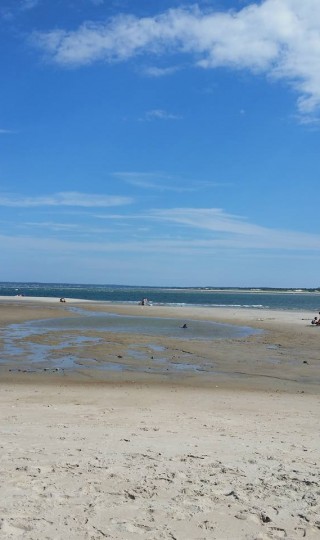 Musings on a late summer's day from my journal…
The tidal waters converged around the sandbar creating a rippling wave that crisscrossed and danced diagonally on the shore. The blue ocean water sparkled in the large tidal basin evoking the vision of a large sapphire sitting in the sun.
As I waded in the warm tidal pool I looked down to see a school of minnows swirling about my feet and my ankles. I imagined that they tickled my flesh as they swam by so swiftly in the sun-warmed water.
What a blessing to have this perfect last beach day soaking up the sun and lolling in the water that was near warm enough to be in the tub. Life was teeming at the water's edge, from the minnows and hermit crabs to the sanderlings and piping plovers and of course, the large shore birds, the gulls of the Atlantic shore. Soon the cooler fall air would shift into play and the warmer weather birds would migrate.
The vast swarms of swallows had left the refuge just a few days ago. The purple martins were also gone. The songbirds had long moved on. Summer was winding down. The green marshes had been showing a hint of fall color for a few weeks, but suddenly there was a riot of color exploding in bursts across the landscape.