In the midst of my imposed immobility, I occasionally get sprung from the sanctuary that I call home, and I am whisked away for drive through the Parker River National Wildlife Refuge.
The winter days have been so unseasonably warm over the past few weeks and my soul craves the sun and fresh air, not to mention some good bird sightings as well.
On my most recent excursion to the Refuge, which truly is the most marvelous stronghold for my soul, we were lucky to find a lovely White Egret sunning near two Mute Swans. Suddenly the White Egret took to flight and it was spectacular to witness it's ascent into the skies.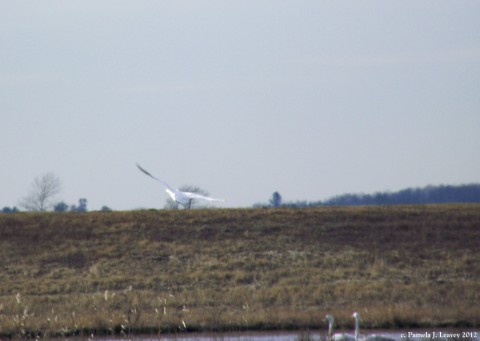 I wish my camera did better justice to the majesty of watching this lovely bird in flight… I'm was filled with gratitude with the blessing of just quietly witnessing it's presence.
(Photo: White Egret in Flight ~ c. Pamela J. Leavey 2012)