I've been working with the Word Press platform for just about 9 years now. What started as utilizing the platform to build my first blog, slowly grew into a passion for the platform itself and it's functionality. Over the years, I've learned the fine art of developing a Word Press blog and/or website. I want to share some tips with readers in a new series here.
First, let's start with some basics.
I recommend PowWeb for webhosting your blog or business website. PowWeb gives you the opportunity to purchase your domain name through their service, but I prefer to purchase my domain name on my own and I recommend GoDaddy, as they tend to have the most competitive prices for domains.
My latest project on Word Press is a re-design of my retail website, AromatherapyGoddess.com on Word Press: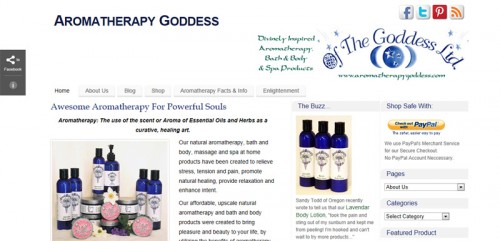 I'll be writing more here about the process of creating a business website on Word Press… Stay tuned.
My services are available for installation and creation of a Word Press website or blog and social media marketing. Contact me here.