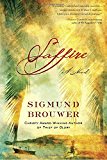 Sigmund Brouwer's Saffire hooked me right from the start. An interesting historical read about the building of the Panama Canal, peppered with a little mystery and intrigue as well as some romance.
The book's protagonist James Holt is a fascinating character straight out of the turn of the 20th century wild west. I found it hard to put this book down.
I love the way author Sigmund Brouwer wove distinct tidbits of the culture and history of Panama into this fascinating a tale.